The Frosticons (2015), Glorp Corp (2015) & Munchos Mix is a Mix that made its debut in A Quest for the Lost Mixamajig.
Physical Appearance
The Mix mostly resembles Gurggle, Krog and Snax. It has four legs with Snoof and Krog's feet, while it has green and purple slopes on top of the feet. The Mix has Krog's ice horns on the side of the head, five teeth and Gurggle's eyes on the top as well as Krog's eye under that. Its body is mostly blue. It has four eyes on the side as well as purple and green rocket boosters. The top of the Mix has what appears to be the tail of a plane, resembling Snax's head, with a green underbite and Waka's teeth.
Background
After angrily chasing after the Klinkers outside of Klinkerton where they had lost them, Snoof and the group of Mixels proceed by Mixing with the group of Mixels, using Dribbal's Cubit. They make a truck-like Mix, pursuing the aim to catch up with the them. They eventually split and had to walk regularly to proceed while in the Lixer Land swamp.
Trivia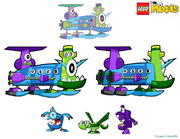 He has approximately eight eyes.
He travels similar to Snoof, in which it slides across the ground using ice boosters.
He was first seen in Miranda Dressler's concept art.
He vaguely resembles a truck or a bus. A truck horn is also heard when the Mix is chasing the Klinkers.
Gallery
Main article: Frosticons, Glorp Corp and Munchos Mix/Gallery
M
i
x
e
s
Burnard
Niksput
Nurp-Naut
Rokit
Globert
<gallery source="template?" navigation="true">

FlainGlobertMix_byNF971.png|link=Globert & Flain Mix GlobertVamposMix_byNF971.png|link=Globert & Vampos Mix

</gallery
Jinky
Krog
Tungster
<gallery source="template?" navigation="true"> File:Slusho_and_Tungster_Mix_by_Josh.png|link=Tungster & Slusho Mix
<gallery source="template?" navigation="true">

Mondo Mixes transparent.png|link=Mondo Mixes

FrostGlorpMunch Mix transparent.png|link=Frosticons, Glorp Corp and Munchos Mix
Community content is available under
CC-BY-SA
unless otherwise noted.