The Flexers Max is a Max that made its debut in Calling All Mixels.
Physical Appearance
Overall, this Max resembles Balk the most.
The Flexers Max has a long body with large, squiggly tentacle arms on both sides. He has four legs with black at the top and orange at the bottom of the legs. He has a tail with suckers, with large grey attachments connecting each. The first and second parts seem to be cap-like parts with the top having a pointy orange top. The head has a jaw with two teeth on both sides, and the top part of the jaw includes a round head with a square nose-like attachment. He has eyes connected to tentacles, and the rest of the head slopes down to the body.
Biography
The Max was formed to fight King Nixel after discovering the Mixamajig was a hoax. He then Mixed with the other Maxes to form the Ultra-Miximum Max. ("A Quest for the Lost Mixamajig")
Set Information
The Flexers Max can be built using parts combined from Mixels sets 41515 Kraw, 41516 Tentro, and 41517 Balk. Extra parts are leftover after construction. Instructions are available on the LEGO website downloads page.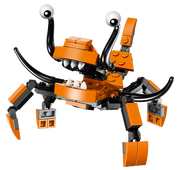 Trivia
Following the Flexers sea creature theme, their Max somewhat resembles a lobster or a crayfish, similar to Kraw.
In his LEGO model, the tentacles his eyes are attached to are more than twice the size they are in the cartoon.
Gallery
Main article: Flexers Max/Gallery
External links
Mixels Series 2 (June 2014)
LEGO sets
Frosticons
41509 Slumbo

(Nixel) / 41510 Lunk

/ 41511 Flurr


Frosticons Max


Fang Gang
41512 Chomly

(Nixel) / 41513 Gobba

/ 41514 Jawg


Fang Gang Max


Flexers
41515 Kraw

/ 41516 Tentro

/ 41517 Balk
(Nixel)
Flexers Max

Wrong Colors / Nixel "Mix Over" / Bar B Cubes / Snow Half Pipe / Hamlogna Conveyor Belt Madness / Vaudeville Fun / Fang Gang Log Toss / High Five / Elevator

Stopmotions


Jawg & Lunk Murp / Kraw & Flurr Mix! / Gobba & Tentro Mix!
Community content is available under
CC-BY-SA
unless otherwise noted.