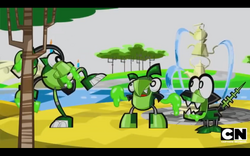 Fetch the Cubit is a game in Mixel Land.
How To Play
A dog-like Mixel (Ex: Glurt) and a Cubit are required in order to play. The Cubit must be thrown and the dog-like Mixel must obtain it and return it to the Mixel that has thrown the Cubit.
Background
Fetch the Cubit is introduced in Murp Romp. Glomp played it with Glurt after they made contact with the Spikels. Glomp began to play by throwing the Cubit. Then, Glurt went to get it. Later, Scorpi accidentally bumped into Glurt when Glurt obtained the Cubit, creating a Murp.
Trivia