This article is a stub




You can help the Mixels Wiki by expanding it. Once there is approval from an administrator, this notice may be removed.
MAX!




MAX! The page you are about to view is about a Max! When three Mixels from the same tribe Mix, they make a Max! A giant beast with the powers of all three Mixels, as well as some unique powers!
Warning! This page is Fang Gang territory.




MIX! The page you are about to view has something to do with the Mixel tribe of the Fang Gang. The Fang Gang is the group with the biggest appetite, and they can get seriously crazy on an empty stomach.
Fang Gang Max

Information
Appearances
Mixels.com
Primary Mixel
Jawg
Secondary Mixel
Gobba
Tertiary Mixel
Chomly
Purpose(s)
 ?
Ability(ies)
Has strengthened and indestructible teeth

The Fang Gang Max is a Max that has not appeared in the series yet, but has appeared on Mixels.com.
Physical Appearance
Overall, this Max resembles Gobba the most.
The Fang Gang Max has three fingers on his hands. His upper teeth looks similar to Gobba's, the lower ones look similar to Chomly's, and the tail resembles Jawg's. He has two sharp black toenails. His body resembles Gobba's, and he has a black nose on his face.
Abilities
Has strengthened and indestrucible teeth.
Set Information
The Fang Gang Max can be built using parts combined from Mixels sets 41512 Chomly, 41513 Gobba, and 41514 Jawg. Extra parts are leftover after construction. Instructions are available on the LEGO website downloads page.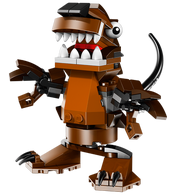 Trivia
He somewhat resembles a bear or beaver.
He has the least amount of powers out of all of the maxes.
Gallery
Main article: Fang Gang Max/Gallery
Community content is available under
CC-BY-SA
unless otherwise noted.