Fang Gang Log Toss is the eighteenth episode in the first season of Mixels. It first aired on June 19, 2014.
Synopsis
YouTube
Chomly and Jawg are hell bent on continuing their log toss game despite Slumbo and Flain's protests.[1]
Zap2it
Chomly and Jawg want to continue their log toss game despite Slumbo and Flain's protests.[2]
Episode Summary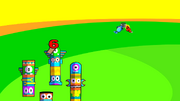 Chomly and Jawg play a fun game of Log Toss, but Slumbo and Flain protest against it when they are hit with the log. Despite this, they are solely focused on continuing their game and will do anything to continue it. So then, Chomly throws a Cubit at the two, causing them to Murp into a log shape, which Chomly and Jawg use to continue the game.
Transcript
For a full transcript of "Fang Gang Log Toss", click here.
Songs
Characters
Major Characters
Murps
Trivia
This episode marks Chomly's debut.
This is the first and only episode to contain a tribe's name in the title.
This is the first and only episode to take place in the Farmlands.
Flain does not speak in this episode.
Gobba is the only member of the Fang Gang tribe not to appear in this episode.
Broadcast
This episode and "High Five" aired on June 19, 2014 directly following the Teen Titans Go! episode, "Man Person" and received a total of 1.841 million viewers.
Errors
In the beginning, Chomly is missing his larger bottom teeth and his smaller bottom teeth are overlapping each other.
When Chomly is picking up the log at the beginning, his bottom teeth detach from his jaw for a split second.
When Chomly tells Jawg to beat his score, Chomly's gold tooth is on the wrong side of his mouth.
When the log smashes Slumbo and Flain, Flain's latter's head fire was put out and Slumbo loses his teeth. However, when confronting Chomly and Jawg, Flain has his head flame reignited and Slumbo's teeth return.
During the time when Chomly gets six points, right after throwing the log, he stands in the same position as he was when he released the log.
When Flain burns the log, Slumbo's hand appears undamaged by the fire.
When Slumbo and Flain walk away, Jawg's tail end detaches for a second.
Most times in the episode, Chomly's outlines are too thick.

When Chomly plans to trick Flain and Slumbo, his outlines return to a normal thickness.
Continuity
​Memorable Quotes
"Ha! Beat that!"
— Chomly
"No more log, no more Log Toss. Hmph."
— Slumbo
"I say we tricks em'...and Mix 'em! Hee hee hee hee hee..."
— Chomly threatens to make Slumbo and Flain pay.
Video
Gallery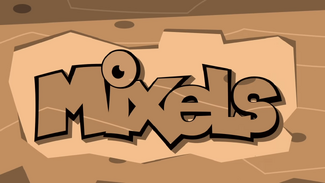 The image gallery for Fang Gang Log Toss may be viewed here.
Sources and References
Mixels Series 2 (June 2014)
LEGO sets
Frosticons
41509 Slumbo

(Nixel) / 41510 Lunk

/ 41511 Flurr


Frosticons Max


Fang Gang
41512 Chomly

(Nixel) / 41513 Gobba

/ 41514 Jawg


Fang Gang Max


Flexers
41515 Kraw

/ 41516 Tentro

/ 41517 Balk

(Nixel)
Flexers Max
Wrong Colors / Nixel "Mix Over" / Bar B Cubes / Snow Half Pipe / Hamlogna Conveyor Belt Madness / Vaudeville Fun / Fang Gang Log Toss / High Five / Elevator

Stopmotions


Jawg & Lunk Murp / Kraw & Flurr Mix! / Gobba & Tentro Mix!