m

Tags: apiedit, rollback, Visual edit

Tags: apiedit, Visual edit

Line 24:
Line 24:
 

==Synopsis==

 

==Synopsis==

 

===LocateTV===

 

===LocateTV===

−

An impromptu jam session from the [[Mixels (creature)|Mixels]] attracts the attention of a new tribe: the Sproingers.''[sic]''<ref>[http://www.locatetv.com/tv/mixels/8777494 Mixels - Mixels Mixed-Up Special | LocateTV]</ref>

+

An impromptu jam session from the [[Mixels (creature)|Mixels]] attracts the attention of a new tribe: Sproingers.''[sic]<ref>[http://www.locatetv.com/tv/mixels/8777494 Mixels - Mixels Mixed-Up Special | LocateTV]</ref>

 

<!-- PLEASE DO NOT REMOVE THIS MESSAGE UNTIL MORE INFORMATION ABOUT THE SPECIAL COMES!! It is very important the fandom is aware that the Sproingers are not a real name. We live in a very, very gullible fandom, and some would do anything to spread the news they THINK is real. -->

 

<!-- PLEASE DO NOT REMOVE THIS MESSAGE UNTIL MORE INFORMATION ABOUT THE SPECIAL COMES!! It is very important the fandom is aware that the Sproingers are not a real name. We live in a very, very gullible fandom, and some would do anything to spread the news they THINK is real. -->

 
 
---
Revision as of 02:29, 27 December 2015
This article is a stub


You can help the Mixels Wiki by expanding it. Once there is approval from an administrator, this notice may be removed.
This article has a conjecture name


LEGO or Cartoon Network has not given the official name of this subject, so it is purely conjectural. This template and page name will be used until an official name is provided.
This article is about a future subject


This article contains information about an upcoming episode, character, or other subject. It may contain spoilers. Information is still developing about this subject and may change in the future.
This article covers an unaired episode


This episode has not yet aired. The information may rapidly change as soon as more becomes available.
"It's kids in a Mixel classroom. So we create the principal and the teachers and the kind of things, the business that would go on that we hope is kid-relatable."
— Skip Jones, The Wonderful World of Mixels
The untitled Series 7 special is the first episode in the third season of Mixels, and the twenty-fourth episode overall. It is also the fourth half-hour special. It will air sometime in early 2016.
Synopsis
LocateTV
An impromptu jam session from the Mixels attracts the attention of a new tribe: The Sproingers.[sic][1]
Important note: It has been stated down below in the article that the tribe name "the Sproingers" was erroneously added. This means it is not an official tribe name, as far as we know, and is not a Series 9 name. Please remember this.
Characters
Major Characters
Minor Characters
Production Information
Trivia
Broadcast
This episode is likely set to air in early 2016, presumably around February or March of that year with the release of Series 7 of the LEGO sets.
Continuity
Gallery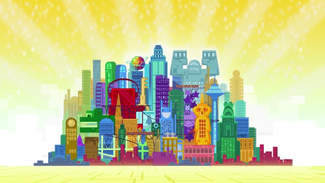 The image gallery for Every Knight Has Its Day may be viewed here.
Sources and References
Community content is available under
CC-BY-SA
unless otherwise noted.