Were you looking for the Max?
Electroids MAX![1] is the second episode of the Mixels stop motions. It was released on March 27, 2014 on YouTube.
Synopsis
LEGO
The three Electroids are fending off a huge swarm of pestering Nixels. Will Zaptor, Teslo, and Volectro be able to fend off the Nixels before it's too late?[1]
Cartoon Network
The Electroids go MAX to scare off the Nixels. Watch more Mixels on Cartoon Network!
Summary
Teslo, Volectro and Zaptor find themselves surrounded by a Nixel swarm. The three Electroids look at each other and decide that they have to Max to fend off the Nixels. Teslo pulls out a Cubit and they Max, electrocuting a few Nixels until the majority of them run away, leaving one left to be electrocuted.
Characters
Major Characters
Maxes
Trivia
Videos
Gallery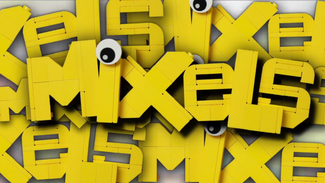 The image gallery for Electroids MAX! may be viewed here.
Sources and References
Community content is available under
CC-BY-SA
unless otherwise noted.