Warning! This page is Electroid territory.




MIX! The page you are about to view has something to do with the Mixel tribe of Electroids. The quirky Electroids love to tinker and experiment, and they live high up in the mountains to be closer to the lightning storms.
"Oh boy, oh boy, oh boy! I've got one muck!"




This page is about a food or object found in the Mixels Land. It is considered canon in the Mixels franchise and may or may not be a mix of two real life objects.
Electric Trees are a type of tree that are located in the Mountain City. Certain trees can emit light, such as the yellow trees.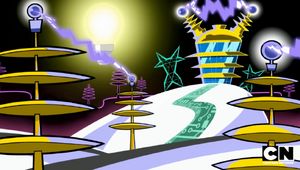 Trivia
There are two variations of the Electric Tree: one being white and the other being yellow.

The yellow trees are more common.
Gallery
Community content is available under
CC-BY-SA
unless otherwise noted.