This article is under construction


This page or section is currently under maintenance or construction. Feel free to help in any way you can to improve it.
The Egg-Rock (named by multiple Mixels after its shape), also called a Mixelroid by Gurggle, and a Flying Egg by LEGO, is a metal capsule which contains the Maximum Mixel shadow puppet hologram made by Nixels. It provided Snoof with the Mixamajig Key.
Background
"Major, you've clearly left me no choice. Next time, I'll take matters into my own hands from the start!"
Angered by the fact that Major Nixel's Nixelstorm plot kept failing, King Nixel takes over commanding operations and starts to prepare the capsule for launch.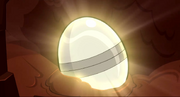 After selecting Snoof as their "lackey", Major Nixel sends two Nixels to do their assignment. They jump into the capsule and it is pulled up and out of an opening in the ground, and is sent by slingshot through the skies of the Frozen Volcanoes. It sends off a cloud of smoke to signal Snoof, and flies past the Swamplands into Muncholand, gathering up a group of Mixels along the way, and crashes into a field of Mixmallows.
While there, the Mixels try to figure out what it is, and Dribbal names it an Egg-Rock after its shape. Eventually, while they argue over who owns it, it begins to glow and opens up, and it sends a light into the sky in which the two Nixels use to cast the Maximum Mixel shadow puppet.
Gallery
Main article: Egg-Rock/Gallery