"Doot doot doo…perfect cupcakes!"
Cupcakes are the food baked by both Major Nixel and the Orbitons.
Description
The cupcakes appear as vanilla frosted cupcakes in black cupcake liners with pieces of black licorice on top of them. They seem to be very disgusting and dull-tasting, probably because Major Nixel baked them. However, he declares them perfect thanks to the Nixels believing uncreativity is a good thing.
Orbiton cupcakes, on the other hand, seem more appealing though then their counterpart. They are lemon frosted with pink cupcake liners and orange sprinkles on them.
Background
Cupcakes first appear in Calling All Mixels as a weapon that the Nixels use. Cannon Nixels have them as their ammo and shoot them with the push of a button. They can travel far distances and deal a lot of damage to the Mixels that get hit by them.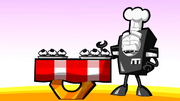 In "Epic Comedy Adventure", Major Nixel, too tired to follow his Nixels in capturing the leaders, heads back to the Mix Festival to bake cupcakes. As soon as the color and the Cubits are restored, he finishes and announces what he says are "perfect cupcakes". The Gobba & Flain Mix samples them, declaring that something's missing: Major Nixel's face, and flips the table, smashing the cupcakes into the Major's face.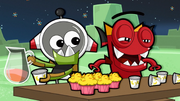 In "Mixel Moon Madness", Nurp-Naut and the Orbitons had baked fresh cupcakes to go with the other refreshments at the Infernites' welcoming party. However, it didn't take long for Burnard to find them and eat them all in one bite, along with the cups for Oxy-Juice.
Trivia
Cupcakes are the third food that is not mixed, the first being ice cream, the second being cake, and the fourth being strawberries.
They are the first (and currently only) food to have been made by the Nixels. However, the Mixels still have their own variation of them as well.
Community content is available under
CC-BY-SA
unless otherwise noted.