"Oh boy, oh boy, oh boy! I've got one muck!"


This page is about a food or object found in the Mixels Land. It is considered canon in the Mixels franchise and may or may not be a mix of two real life objects.
Warning! This page is Nixel territory.


NIX! The page you are about to view has something to do with those naughty little black and white Nixels. Approach with caution. Seriously, why do they always have to Nix our fun?
Cupcakes
are a food found in
Mixel Land
. They are popular with
Nixels
.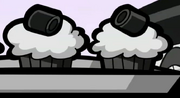 Description
The cupcakes appear as vanilla frosted cupcakes in black cupcake liners with pieces of black licorice on top of them. They seem to be very disgusting and dull-tasting, probably because Major Nixel baked them. However, he declares them perfect thanks to the Nixels believing uncreativity is a good thing.
Background
Cupcakes first appear in Calling All Mixels as a weapon that the Nixels use. Cannon Nixels have them as their ammo and shoot them with the push of a button. They can travel far distances and deal a lot of damage to the Mixels that get hit by them.
In "Epic Comedy Adventure", Major Nixel, too tired to follow his Nixels in capturing the leaders, heads back to the Mix Festival to bake cupcakes. As soon as the color and Cubits are restored, he finishes and announces what he says are "perfect cupcakes". The Gobba/Flain Mix samples them, but declares something is missing to them, which infuriates Major Nixel. It turns out what was missing was "his face", as the Mix overturns the table and smashes the cupcakes into his face.
Trivia
They are the first food to have been made by Nixels. the mixels don`t like it