Were you looking for the Max?
Cragsters MAX![1] is the third episode of the Mixels stop motions. It was released on March 27, 2014 on YouTube.
Synopsis
Shuff, Seismo, and Krader are out having fun smashing rocks. But one boulder is unbreakable, how will our industrious Cragsters smash it open?[1]
Summary
Krader, Seismo and Shuff begin smashing three rocks to find the crystals inside, Krader is unable to smash his. Shuff pulls out a Cubit and the three Max, which easily breaks open the rock with a single bite and touch.
Characters
Major Characters
Maxes
Trivia
This stopmotion used Series 2 voice clips, despite the episodes focusing on Series 2 not being released at the time.
Errors
Shuff is missing the sloped pieces on his arms throughout all of the stopmotion.
Videos
Gallery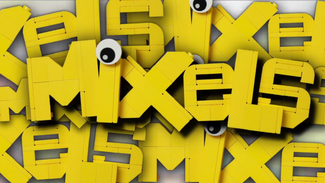 The image gallery for Cragsters MAX! may be viewed here.
Sources and References
Community content is available under
CC-BY-SA
unless otherwise noted.