I watch now!




This page is about an episode of the Mixels television series on Cartoon Network. From here, you can also access the gallery and transcript pages for the respective episode.
" Let me load you up, my Cragster compadre. We've got plenty...(Realizes there are no Cookironies left) AHHHHHH! That's our last cookironi!"
— Flain
Cookironi

Information
Season
1
Episode Number
2
Production Code
?
Original Airdate
?
Characters
Everyone from Series 1
Episode Guide
Previous
Coconapple
Next
Hot Lava Shower
Cookironi is the second episode in season one of Mixels.
Plot
Official Description
The Mixels have very very many and infinite plenty cookironies... until they don't! What's it take to get ahold of the last tasty snack? MAXES TO THE MAX!
Synopsis
Everyone is enjoying special cookies called cookironies (a combination of a cookie and macaroni/pasta). Flain gives the last cookironi to Krader, but then freaks out, as that was the last cookironi. Afterwards, Krader retreats underground to eat his snack, but Zorch snags it, causing Krader to break his teeth. Zorch is headbutted away by Shuff, who is then punched away by Vulk, who is THEN zapped into a rock by Zaptor. The Cragsters then combine into their Max form and begin chasing Zaptor. However, Teslo and Volectro catch up with them and the Electroids mix into their Max form. The Infernite Max then shows up, and the rumble begins. Eventually, every Max de-mixes, and then a dizzy Zorch accidentaly sits on the last cookironi, depressing everyone. They then see a Nixel with a new box of Cookironis, and give chase.
Transcript
For a full transcript of "Cookironi (episode)", click here.
Trivia
Memorable Quotes
"I love cookironis! (Om nom)"
— Volectro
"The last cookironi... (breaks teeth)"
— Krader
"Mmmm... So good. Me want another."
— Krader
"Let me load you up, my Cragster compadre. We've got plenty. (realizes that was the last Cookironi) AAAAAAAAAAAAAAH!!!! That's our last cookironi!"
— Flain
"Ooh, Cookironi!"
— Infernite Max
Gallery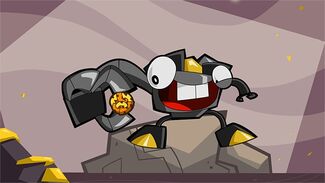 The image gallery for Cookironi (episode) may be viewed here.
Community content is available under
CC-BY-SA
unless otherwise noted.