"(Screams) That's our last cookironi!"
— Flain
Cookironi
Information
Season
1
Episode Number
2
Production Code
 ?
Original Airdate
 ?
Characters
Everyone
Episode Guide
Previous
{{{previous}}}
Next
{{{next}}}
Cookironi is the second episode in season one of Mixels.
Plot
The Mixels have very very many and infinite plenty cookironis... until they don't! What's it take to get ahold of the last tasty snack? MAXES TO THE MAX!
Trivia
This episode is the second to be named after one of the Mixels' foods.
This the first appearance of the Electroids, A Nixel and all Maxes.
Memorable Quotes
"I love cookironis! (Om nom)"
— Volectro
"The last cookironi... (breaks teeth)"
— Krader
"Let me load you up, my Cragster compadre. We've got plenty. (realizes that was the last Cookironi) (screams) That's our last cookironi!"
— Flain
Gallery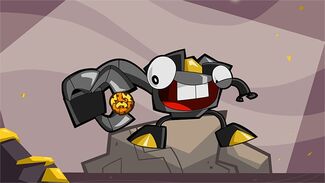 The image gallery for Cookironi (episode) may be viewed here.