Cookironi is the third episode in the first season of Mixels. It first aired on February 12, 2014.
Synopsis
Cable
Nine first wave Mixels fight over a single cookironi.[2]
YouTube
The Mixels have very very many and infinite plenty cookironis... until they don't! What's it take to get ahold of the last tasty snack? MAXES TO THE MAX!
Zap2it
Mixels fight over a single cookironi.[3]
Episode Summary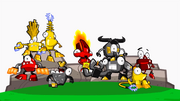 On the Large Rock, the Infernites, Cragsters and Electroids enjoy Cookironis, Krader asks for another from Flain and gives him one until he realizes that was the last one. All of the Mixels stare at Krader who retreats underground to enjoy his snack.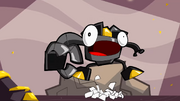 As Krader is about to eat the Cookironi, Zorch snags it from him. Zorch too then loses the Cookironi to Shuff, and then to Vulk and lastly to Zaptor. Zaptor gets cornered by the Cragsters, who Max to chase him. Teslo and Volectro save Zaptor and the three Electroids Max to fight off the Cragsters Max. The Infernites Max joins in and the three Maxes locate the last Cookironi and fight for it.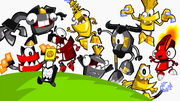 The three Maxes end up splitting out of exhaustion, and Zorch accidentally sits on the Cookironi, upsetting everyone. They then spot a Nixel with a full box of Cookironis and give chase as the episode ends.
Transcript
For a full transcript of "Cookironi (episode)", click here.
Songs
Characters
Major Characters
Minor Characters
Maxes
Memorable Quotes
Trivia
Broadcast Information
This episode, "Coconapple" and "Hot Lava Shower" aired on February 12, 2014 directly following the Teen Titans Go! episode, "Be Mine" and received a total of 2.005 million viewers.
International airings
International airings
February 2014
Date
Countries
Title
Reference
10
Hungary
Hamaróni
[4]
12
United States
Cookironi
Canada
Cookironi
[5]
17
Germany
Keksnudel
[6]
Romania
Prăjifursec
[7]
19
South Korea
쿠키로니
[8]
Unknown
???
Australia
Cookironi
Brazil
Comacarrão
Bulgaria
Готверони
Denmark
Kageroni
France
Cuisteroni
Hong Kong
TBA
India
TBA
Italy
Cuccheroni
Japan
クッキロニ争奪戦
Latin America

Argentina
Chile
Colombia
Mexico

Macarrocinado
MENA countries
الحعتورون
Netherlands
Koekironi
Norway
Kjeksaroni
Poland
Makarociacho
Portugal
TBA
Russia
Повароны
South Africa
Cookironi
South East Asia
Cookironi
Spain
TBA
Sweden
Kakaroner
Taiwan
義麵大廚
Turkey
Kurabiye
United Kingdom & Ireland
Cookironi
Continuity
Errors
Video
Gallery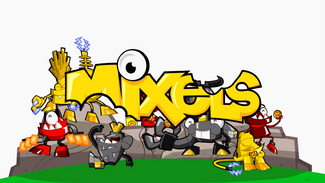 The image gallery for Cookironi (episode) may be viewed here.
Sources and References
Mixels Series 1 (March 2014)
LEGO sets
Infernites
41500 Flain

/ 41501 Vulk

(Nixel) / 41502 Zorch


Infernites Max


Cragsters
41503 Krader

(Nixel) / 41504 Seismo

/ 41505 Shuff


Cragsters Max


Electroids
41506 Teslo
(Nixel) / 41507 Zaptor

/ 41508 Volectro


Electroids Max

Coconapple / Cookironi / Hot Lava Shower / Electrorock / Nixels / Pothole / Murp / Mailman / Another Nixel / Changing a Light Bulb / Rockball

Stopmotions


Infernites MAX! / Cragsters MAX! / Electroids MAX!