Were you looking for the episode, Cookironi? Click here.
Cookironis are a type of food on Planet Mixel.
Description
Cookironis, being a mix of cookies and macaroni, look like a bunch of macaroni noodles pressed together to form a cookie. The colors of the macaroni on a Cookironi are yellow and orange. They also have chocolate chips randomly studding them.
Background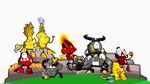 The Infernites, Cragsters and Electroids are seen eating Cookironis on the Large Rock. They then realize that Krader is given the last Cookironi, so they fight over it. Zorch gets so dizzy that he sits on the Cookironi, crushing it into tiny crumbs. Everyone is disappointed, until they see a Nixel eating a box of Cookironis; they then give chase.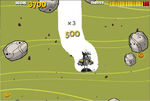 Cookironis are used to give the Cragsters Max health in the Cragsters game on Mixels.com.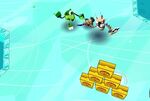 Cookironi boxes appear as collectible items in some missions in Calling All Mixels. When collected, a crunchy chewing noise is heard.
In this mini movie, Paladum loses his Cookironi, causing the Medivals and MCPD to give chase to it. Paladum and Busto then make a Mix and catch it in Busto's cell, "eating" it.
Set Information
Cookironi
Information
Series
7
Item Number
41556
Packaging
Dark blue bag
No. of Pieces
1
Price
 $4.99


 $5.99
 €3.99
 £2.99
 29.95 kr

In-Booklet Code
N/A
A Cookironi is included with the Series 7 set 41556 Tiketz.
Trivia
They are similar to a chocolate chip cookie, and appear to be quite unhealthy, as they are technically a chocolate chip cookie stuffed with macaroni elbows. This also might make it an obsessive junk food, as the Mixels fought over it crazily.
They have only appeared in one episode so far, and no longer seem to be as popular as they were with the Mixels, although it is also known that Flurr[1] (who debuted later) likes them to some extent, and they are Tiketz' favorite food.
"Cookironi" is typically misspelled by LEGO - it is spelled "cookeroni" in a stop motion video, "cookaroni" in the video file of the stop motion, and "cookerooni" in an unreleased breaking news report shown in a Series 8 instructions manual.
References
Gallery
Main article: Cookironi/Gallery
Mixels Series 7 (February 2016)
LEGO sets
MCPD
41554 Kuffs
/ 41555 Busto
(Nixel) / 41556 Tiketz
(Cookironi)
MCPD Max


Medivals
41557 Camillot
/ 41558 Mixadel
/ 41559 Paladum
(Nixel)
Medivals Max

Mixies
41560 Jamzy
(Nixel) / 41561 Tapsy
/ 41562 Trumpsy

Mixies Max
Stopmotions

Wild Cookeroni Chase in Downtown Mixopolis! / The Music Prank
Community content is available under
CC-BY-SA
unless otherwise noted.