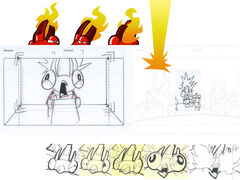 This page contains all of the publicly-released and found images of concept art - including, but not limited to, character designs, backgrounds, props, and reference sheets. These are made to assist the animators in creating an episode of Mixels.
Some production art was also created for games, such as the two apps that have been released, and the minigames on Cartoon Network's website.
For the LEGO equivalent, see Prototypes.
Nollan Obena
Maria Vitan
Chris Corum worked on the show as a creative director, mainly working on the online Flash-based website, during Season 1's run.
Miscellaneous