I watch now!




This page is about an episode of the Mixels television series on Cartoon Network. From here, you can also access the gallery and transcript pages for the respective episode.
"Face! It bur-AAAAAAAAAAAA!"
— Seismo

Coconapple is the first episode in season one of Mixels. It first aired on February 11, 2014.
Plot
Official Description
When there's a coconapple just out of reach, what are Seismo and Zorch to do? MIX! At least, Zorch seems to think so!
Synopsis
Seismo cannot reach a coconapple (combination of coconut and apple) hanging from a tree. Zorch finds him, and tells him that they will be able to get it if they mix. Seismo gets scared of that idea. However, once the two combine with each other, he gets afraid of Zorch's feet and went out of control crashing onto Krader and Shuff and later making Flain stuck to the lava pool, it then explodes leaving Seismo and Zorch in the air, Zorch then quotes that it was fun, Seismo gets mad at Zorch and chases Zorch. They then return back to their normal selves, Seismo tells Zorch that he doesn't like him. The coconapple falls off the tree and hits Seismo in the head, leaving him unconscious. Zorch laughs and eats the coconapple.
Transcript
For a full transcript of "Coconapple (episode)", click here.
Trivia
This episode features a small intro highlighting only 2 of the three tribes, the Infernites and the Cragsters, then cuts to the main episode.
This episode has the first Mix that can fly.
Memorable Quotes
"Your pal Zorch's got your needs, man! (pulls out cubit) TA-DA! Eh?"
— Zorch
"Me no like you."
— Seismo
"Hehe! Coconapple!"
— Zorch
"Coconapple, yum-yum! Not in tum tum. "
— Seismo
Gallery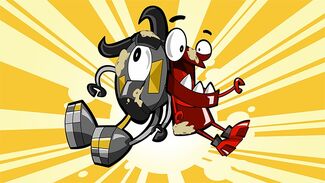 The image gallery for Coconapple (episode) may be viewed here.
}
Community content is available under
CC-BY-SA
unless otherwise noted.