"Warning! This page is Infernite territory."




MIX! The page you are about to view has something to do with the Mixel tribe of Infernites. Fiery, short-tempered, but handy for a barbecue, the red-hot Infernites dwell in the magma wastelands near the Earth's core.
Warning! This page is Cragsters territory.




MIX! The page you are about to view has something to do with the Mixel tribe of Cragsters. The industrious miners known as the Cragsters live in a vast network of tunnels and caverns dug deep underground.
I watch now!




This page is about an episode of the Mixels television series on Cartoon Network. From here, you can also access the gallery and transcript pages for the respective episode.
"Face! It bur-AAAAAAAAAAAA!"
— Seismo
Coconapple


Someone not to trust.
Information
Season
1
Episode Number
1
Production Code
 ?
Original Airdate
February 12, 2014
Characters
Infernites
Cragsters
Episode Guide
Previous
None
Next
Cookironi

Coconapple is the first episode in season one of Mixels. It first aired on February 12, 2014. It is also the pilot episode of the series.
Synopsis
Zorch "helps" Seismo obtain a Coconapple, but there is more to Zorch's "good" intentions than Seismo thinks.
Episode Summary
The episode starts off with Flain taking a lava bath. Zorch speeds to Vulk and whips him with a towel. Vulk gets mad, and chases Zorch until he zips away, causing Vulk to spin around in circles. The episode clips to the Cragsters, as they start giggling.
The episode then goes to the part where Seismo attempts to grasp a coconapple and fails. Zorch runs to Seismo, and Seismo explains his need of the Coconapple. Zorch helps Seismo by grabbing a Cubit for him, but Seismo is shy about mixing with Zorch. Seismo glances at the Cubit and coconapple, and runs up to the Cubit and touches it with Zorch. A stirrer appears, and picks up Seismo and Zorch, and starts to spin around. Seismo is scared due to the actions, but Zorch doesn't seem to mind. They bump into each other and mix. The Seismo/Zorch mix comes up. The mix looks at one of his jet boosters, which enables it and leads to him accidentally burning Seismo's eye. The mix flies around, crashing into Shuff and Krader, and soon into the Infernites' home. The Seismo/Zorch mix runs into Flain's bath. Flain gets overwhelmed by the clogged lava, and his fiery head explodes. Flain flies up from the explosion, and then Seismo and Zorch appear.
Seismo and Zorch try to run away in the air and they both crash down to their original area. Seismo tells Zorch that he doesn't like him, and he gets knocked out by the coconapple he was trying to reach. It bounces to Zorch, and he eats the coconapple.
Characters
Major Characters
Minor Characters
Mixes
Transcript
For a full transcript of "Coconapple (episode)", click here.
Trivia
Allusions
Memorable Quotes
"Your pal Zorch's got your needs, man! (pulls out cubit) TA-DA! Eh?"
— Zorch
"Me no like you."
— Seismo
"Coconapple, yum-yum! Not in tum tum. "
— Seismo
Video
Gallery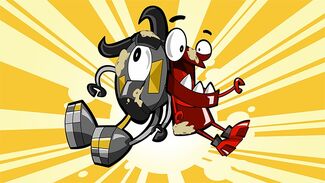 The image gallery for Coconapple (episode) may be viewed here.
Sources and References
Community content is available under
CC-BY-SA
unless otherwise noted.