Line 7:
Line 7:
 

The Mega Nixel Mixel Nixer existed in the form of a metal cloud. In order to be powered and float in the sky, a Nixel had to use a treadmill. It then dropped a bomb that, when in contact with something, would turn it black and white. In the case of the Mixels (who became zombified), the bomb would turn them into a version of themselves that slightly resembles the Nixel species.

 

The Mega Nixel Mixel Nixer existed in the form of a metal cloud. In order to be powered and float in the sky, a Nixel had to use a treadmill. It then dropped a bomb that, when in contact with something, would turn it black and white. In the case of the Mixels (who became zombified), the bomb would turn them into a version of themselves that slightly resembles the Nixel species.

 
 
−

The invention also had the power to break [[Cubits|cubits]].

+

The invention also had the power to [[Cubits|cubits]].

 
 
 

==Background==

 

==Background==
---
Revision as of 12:35, 11 October 2014
Warning! This page is Nixel territory.


NIX! The page you are about to view has something to do with those naughty little black and white Nixels. Approach with caution. Seriously, why do they always have to Nix our fun?
"Oh boy, oh boy, oh boy! I've got one muck!"


This page is about a food or object found in the Mixels Land. It is considered canon in the Mixels franchise and may or may not be a mix of two real life objects.
The Mega Nixel Mixel Nixer was a complex piece of machinery invented by Major Nixel, in order to eradicate the Mixel species and bring in the dawn of the Nixels for good.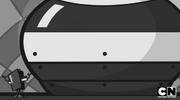 Description
The Mega Nixel Mixel Nixer existed in the form of a metal cloud. In order to be powered and float in the sky, a Nixel had to use a treadmill. It then dropped a bomb that, when in contact with something, would turn it black and white. In the case of the Mixels (who became zombified), the bomb would turn them into a version of themselves that slightly resembles the Nixel species.
The invention also had the power to destroy cubits.
Background
In the Mixed up Special it was used for the first time.
Trivia
When this was in use, Major Nixel came as close as he had ever been before to conquering Mixel Land.
It seems that Nixels are sacrificed in order to Nix up the Mixels.

This shows that Major Nixel does not care about their safety or well-being.

The metallic cloud was first seen in Calling All Mixels, but it was used to trap Mixels in safes instead.
Gallery
Gallery of Nixed Mixels
Community content is available under
CC-BY-SA
unless otherwise noted.