This article has a conjecture name




LEGO or Cartoon Network has not given the official name of this subject, so it is purely conjectural. This template and page name will be used until an official name is provided.
The Castle is an area of Mixopolis. It is the home of the Medivals.
Description
Appearance
The Castle has a large, medieval-like design, implemented with castle gates, snake-like designs, symbols, and stone patterns. Surrounding the castle is a moat with a drawbridge and a green sea serpent-like monster inhabiting it. There are also other fortresses and colorful tents near it.
Trivia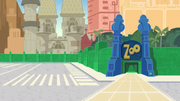 The Mixopolis Zoo is located near it.
The castle was originally conceptualized as a busier street. There were more castle-like buildings, axes and barrels as set design, and the sea serpent was originally used as a bus, with a sign on its head, seats on its back, and a light on its tail.
Gallery
Main article: Castle/Gallery
Appearances
Other
Community content is available under
CC-BY-SA
unless otherwise noted.