Description
Personality
This brave member of the Newzers tribe is MIX TV's 'eye in the sky' who will go anywhere to cover a story. Whether hovering low in a small room or soaring high for shots of the whole of Mixopolis, Camsta always delivers award-winning pictures. So spin those rotors and launch into Camsta's next job!
Physical Appearance
Camsta is mostly blue. He resembles a news helicopter. He has a single large eye inside a grey camera lens. On his right side is the Mix TV logo. On his head, he has a red light on the left, a white light on the right, buck teeth, and a small jaw with two sharp teeth. He has yellow and black ski-like feet. His arms are striped blue and yellow with yellow pincers. On his head is a black propeller. He has a tail as well, with a smaller black propeller.
In the cartoon, he has a black stripe on the top blue part of his head, which connects to the top black part of his head. His white light is a bit far away from the Mix TV logo, and his red light on the left has been replaced with another logo. The grille on the front of his head has two lines instead of three and his lens connector lacks any stripes.
Ability
Origin
Camsta can fly, as well as recording events using his camera eye.
Biography
Early life
Little is known about Camsta's past. However, at some point, he began working for Mix TV as a cameraman.
First adventures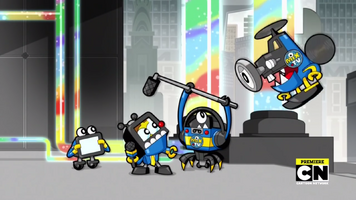 Camsta helped record news reports with Screeno and Myke at the Mix TV station. Later, he helped Screeno and Myke into the Nixels' tower and recorded King Nixel taunting the Mixels; broadcasting it to Mixopolis Stadium's jumbotron and exposing the King's plan just before he nixes everyone. ("Nixel, Nixel, Go Away")
Further adventures
Camsta and his brothers reported live from a glass of milk. With experts agreeing it was a historic event. ("Upcoming Event: Reporting Live From A Glass Of Milk")
Camsta and his brothers shot a scene of Spinza carving an ice sculpture, only for failure to ensue. ("Nindja in an Epic Ice Sculpture Fail")
Memorable Quotes
Set Information
Camsta was released as part of the Series 9 Mixels sets in the October 2016 product wave. His set number is 41579 and contains 62 pieces.
The set includes a Nixel with nerd glasses.
41579 Camsta can be combined with 41578 Screeno and 41580 Myke to create the Newzers Max.
LEGO Shop product description
Take off with newscopter Camsta!
Launch the Newzers tribe's newscopter Camsta, featuring a helicopter body with rotating rotors, camera-style head, cyclops eye, opening mouth and posable joints. For more building and role-play fun, collect all 3 Newzers featured in LEGO® MIXELS™ Series 9 to create the MAX.
Fly high to cover the breaking news stories with newscopter Camsta of the LEGO® MIXELS™ Newzers tribe.
Camsta features a helicopter body with rotating rotors, camera-style head with a cyclops eye for a lens, opening mouth and posable joints.
Collect all 3 Newzers in LEGO® MIXELS™ Series 9 to build the MAX!
Go to LEGO.com/MIXELS for exclusive building instructions, games, animations and much more. Ask your parents' or guardians' permission before going online.
Watch all your favorite MIXELS™ characters on Cartoon Network.
This set includes an age-appropriate building experience for ages 6 and over.
Stands over 2" (6cm) tall.
Trivia
He has a lens around his eye in cartoon form, but not in his LEGO model.
Behind the Scenes
Name and basis
Camsta's name is a play on the word "camera".
Camsta resembles a news helicopter and a camera.
Voice
In the TV series, and where sound clips are used, Camsta's voice is provided by Gregg Bissonette.
Real-life history
Reveals
Camsta appeared with the rest of Series 7 through 9 at Toy Fairs in late January and early February 2016.[1][2]
Content
Camsta debuted in the TV series on October 1, 2016 in Nixel, Nixel, Go Away, while his LEGO set officially became available on October 1 with the rest of Series 9.
Gallery
Main article: Camsta/Gallery
Appearances
Merchandise
Games
Other
Mixels Websites

Breaking News

Upcoming Event: Reporting Live from a Glass of Milk

LEGO Club Magazines

Mixed Up News Report!
Secret Mixel Message!
Sources and References
External links
Characters
Mixels

Nixels
King Nixel

/ Major Nixel


/ Muscle Nixel

/ Slap Nixel

/ Boomerang Nixel

/ Cannon Nixel

/ Boxing Nixel
/ Catch Up Nixel

/ Painted Nixels

/ Tentacle Nixel

/ Nixie
/ Nixel Guard

/ Nixel Amalgamate

Other Species
Maximum Mixel

/ Mixamals

(Mixie Cat

)/ Living Flames

/ Chickens
Mixels Series 9 (October 2016)
LEGO sets
Trashoz
41572 Gobbol
(Nixel) / 41573 Sweepz
/ 41574 Compax

Trashoz Max

Nindjas
41575 Cobrax
(Nixel) / 41576 Spinza
/ 41577 Mysto

Nindjas Max

Newzers
41578 Screeno
/ 41579 Camsta
(Nixel) / 41580 Myke

Newzers Max

Stopmotions

Nindjas vs. Trashoz / Nindja in an Epic Ice Sculpture Fail