This article is about a future subject


This article contains information about an upcoming episode, character, or other subject. It may contain spoilers. Information is still developing about this subject and may change in the future.
This article is under construction


This page or section is currently under maintenance or construction. Feel free to help in any way you can to improve it.
Camillot
Information
Debut
Untitled Series 7 special
Last Appearance
 ?
Nicknames (aka)
 ?
Tribe
Medivals
Position
 ?
Gender Preference
Male
Color
Grey
Gold
Brown
Red
Special Features
Axe
Cannon nose
Flag
Moustache
Likes
 ?
Dislikes
Nixels
Quote
"I didn't ask to be captain. I just want to be like the rest of you."[1]
Voice Actor
 ?
Game Abilities
 ?
Camillot
Information
Series
7
Item Number
41557
Packaging
Grey bag
No. of Pieces
64
Price
 $4.99


 $5.99
 €3.99
 £2.99
 29.95 kr

In-Booklet Code
 ?
Description
Personality
This royal Mixel always had servants, who took care of everything in his life. But now Camillot get acquainted with all the citizens of Mixopolis and to practice the art of mixing. But merely to pass, that this royal figure does not accidentally hurt someone with their Axtarm!
Physical Appearance
Camillot has a gray, castle-shaped head with a red flag on top. He has two eyes, What appears to be a brown moustache, and a black nose shaped like a cannon. The pattern on his gray body resembles stones, and his arms are gray and brown. He has mainly brown feet with yellowish-orange toes that have 2 stripes.
Ability
TBA
Biography
Early life
TBA
First adventures
TBA
Further adventures
TBA
Memorable Quotes
None so far.
Set Information
Camillot will be released as part of the Series 7 Mixels sets in the February 2016 product wave. His set number is 41557 and will contain 54 pieces.
In-Booklet Code
TBA
Background Information
He was one of the first Series 7 Mixels revealed, and was also the first of his tribe revealed.
His name is a combination of the name Camille and the word "Camelot".

Alternatively, it could just be a misspelling of Camelot.
Trivia
He is the second Mixel to only have one hand, the first being Kramm.
He is the fourth Mixel to have a weapon, the others being Magnifo, Rokit, and Forx. However, his is the first to be physically attached to him in some way, being an arm for him.
Paladum is his pet.
He uses a new ball-joint piece.
He is the only Medivals Mixel who is not cycloptic.

He is also the only member to have two legs. Mixadel and Paladum have four legs.
Behind the Scenes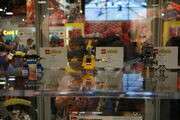 Camillot was first revealed as a character in the Mixels franchise on July 9, 2015 at San Diego Comic-Con International, and only his LEGO set was shown.
Gallery
Main article: Camillot/Gallery
Appearances
Merchandise
Other
Sources and References
External links
Characters
Mixels

Nixels
King Nixel

/ Major Nixel

/ Muscle Nixel

/ Slap Nixel

/ Boomerang Nixel

/ Cannon Nixel

/ Boxing Nixel
/ Catch Up Nixel
/ Painted Nixels

/ Tentacle Nixel

/ Nixie

/ Nixel Guard
Other Species
Maximum Mixel

/ Mixamals
/ Living Flames

/ Chickens