"Oh boy, oh boy, oh boy! I've got one muck!"


This page is about a food or object found in the Mixels Land. It is considered canon in the Mixels franchise and may or may not be a mix of two real life objects.
Cake
is a food from the
Mixel Land
.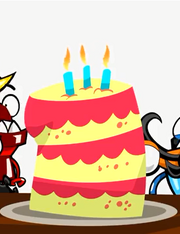 Description
The cake shown appears to be a layered vanilla cake with three layers and pink strawberry frosting. It is seen with blue candles on top of it.
Background
Right after the Mixels said "Happy Birthday to Balk!" the Lunk/Tentro mix crashed through the cake.
Meet Chomly cutscene
Right after Chomly is done dancing he pulls out a slice of cake from his mouth, complete with candle and plate. The top half then slides onto the floor and he laughs in embarassment.
Trivia
It's the second food that isn't a mix, the first being Ice Cream and the third being Cupcakes. it gets destroyed
Chomly's character video is the only other appearance besides Elevator of cake. However, in this case, it is only a slice of cake.

The cake pulled out of Chomly's mouth may have been a slice of cake that was in Elevator. However, it has one layer less, brighter pink frosting, and a yellow candle.
Gallery