Were you looking for the Nixel?
Boomerang is an American digital cable and satellite television channel that is owned by the Turner Broadcasting System subsidiary of Time Warner. Originating as a spinoff of Cartoon Network (which originated Boomerang as a programming block in 1992), Boomerang specializes in a blend of classic and contemporary animated programming from Time Warner's extensive archives with a family-friendly approach, including Looney Tunes, Tom and Jerry, The Powerpuff Girls, and Scooby-Doo.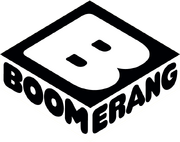 It also airs repeats of shows still in production on Cartoon Network like Teen Titans Go!, The Amazing World of Gumball, and Mixels (first during February, March, and June 2014 and currently since the network's January 2015 relaunch).
Boomerang Latin America also airs the series, and occasionally airs the half-hour episodes, unlike the American feed. Until December 1, 2021, Boomerang Latin America was replaced by Cartoonito.