Were you looking for the episode, Bar-B-Cubes? Click here.
Bar-B-Cubes are a food from Mixel Land.
Description
Bar-b-cubes are a mix of barbecue and ice cube ice cream.
Background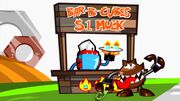 When Slumbo has his ice cube ice cream fall in Vulk's barbecue, he is angry at first, but has an idea. So, they mix and set up a stand to give away free samples of bar-b-cubes.
Gallery
Main article: Bar-B-Cubes/Gallery
Trivia
Gobba really likes them.
They can only be made with the correct Infernite and Frosticon Mix (The Vulk and Slumbo Mixes in particular). Correct mixes can shoot large samples out as well.
According to Slumbo, they are both piping hot and ice cold.
They appear as obstacles in Orbiton Land in Mixels Rush.