Background Mixels
Information
Debut
Mixel Moon Madness
Last Appearance
Nixel, Nixel, Go Away
Nicknames (aka)
Dolts (King Nixel)
Dimwits (King Nixel)
Dunderheads (King Nixel)
Tribe
Various
Position
Various
Gender Preference
Non-binary (still refer to themselves in gendered pronouns)
Color
Various
Special Features
Various
Ability of mixing together
Likes
Creativity
Having fun
Food
Mixing
Maxing
Parties
Each other
Working together
Dislikes
Murping
Nixels
Quote
"MIX!"
Voice Actor
Varies
Game Abilities
None

From Mixel Moon Madness onwards, numerous freelance character designs appeared as background Mixels to represent the other Mixels of a tribe besides the main three to six. None of these Mixels appear in LEGO sets.
The Bats are background Glowkie Mixels, appearing inside the Glowkie Caves.
Most of the background characters show up during the scene of which everyone meets up at the Mixamajig Threshold and they begin to question who the chosen one is.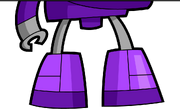 The lower body of a single background Muncho, dubbed Mr. Ius, shows up in the Mixamajig Threshold scene. His model is somewhat recycled from the first Mondo Mix, only colored purple and with a small square replacing the slime cannon.
When the Swamplands are introduced, two background Glorp Corp Mixels appear.
A couple of background Munchos first appear having a picnic when Muncholand is introduced. Soon after, many more background Munchos show up at a party. Later on, the same Muncho Mixels are depicted in the corners of the congregation scene.
Unknown tribe
A group of background Mixels from an unknown tribe appear in the top left corner of the congregation scene.
Faculty
Student Body
Other
Both known staff are Spikels.
Infernites
Electroids
Frosticons
Glorp Corp
Wiztastics
Munchos
Unknown Tribe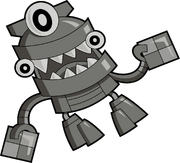 The Advertisement Mixel is a Mixel from an unknown tribe, due to only being shown in black and white. He is featured in an advertisement for the I-Cubit. 

Miscellaneous
Five uniquely-designed Mixies were meant to be building challenge focuses on the LEGO website. However, only two were released.
Trivia
Appearances
Other
Characters
Mixels

Nixels
King Nixel

/ Major Nixel


/ Muscle Nixel

/ Slap Nixel

/ Boomerang Nixel

/ Cannon Nixel

/ Boxing Nixel
/ Catch Up Nixel

/ Painted Nixels

/ Tentacle Nixel

/ Nixie
/ Nixel Guard

Other Species
Maximum Mixel

/ Mixamals

/ Living Flames

/ Chickens