Attempted Bank Robbery[1] is the eighteenth episode of the Mixels stop motions. It was released on June 23, 2016 on YouTube.
Synopsis
Late last night, three pirates snuck into Mixopolis and attempted to rob the city's bank; but they didn't get far. Three local doctors, who were hiding inside the bank vault, gave the pirates such a scare that it is highly unlikely those pirates will return to the city any time soon. [1]
Summary
The Pyrratz leave the Sea Dawg and make their way to Mixopolis Bank, sneaking by Splasho and Hydro. Once they are in, the vault door closes behind them and the Medix are revealed inside. The Pyrratz attempt to run back to the Sea Dawg but are drenched in water thanks to Aquad, they fall into the ocean and then Max to get away.
Characters
Major Characters
Maxes
Videos
Gallery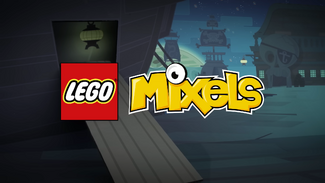 The image gallery for Attempted Bank Robbery may be viewed here.
Sources and References
Community content is available under
CC-BY-SA
unless otherwise noted.