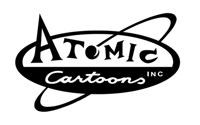 Atomic Cartoons Inc. is a Canadian animation company founded in 1999 by Trevor Bentley, Mauro Casalese, Rob Simmons and Emmy Award winner Rob Davies. Prior to A Quest for the Lost Mixamajig, they did the animation for Mixels, using Toon Boom Harmony software. However, it is commonly mistaken that the series (during its time at Atomic Cartoons) was animated in Adobe Flash. Digital eMation, Inc[1] animated A Quest for the Lost Mixamajig, while Big Star Entertainment animated Every Knight Has Its Day, and Saerom Animation animated Nixel, Nixel, Go Away.
Trivia
They have had the longest run of all the animation companies, animating all of Season 1 and Mixel Moon Madness. They are also the only company to animate more than one episode.
Sources and References
External links
Community content is available under
CC-BY-SA
unless otherwise noted.