The subject of this article has not been released in the United States




This article covers something that has only been released in a foreign country from the base of the show and many of our users. Because of this, the article may lack important details.
Arutz HaYeladim is an Israeli cable television network owned by RGE. The channel was launched in Israel in November 1989. When Cartoon Network's Israel feed closed in 2010, it became a television block on Arutz HaYeladim, bringing it's programs over.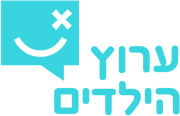 Mixels has aired on Arutz HaYeladim in Hebrew on the Cartoon Network block since 2014.