"FFFFFFFFFFFFFFFFFUUUUUUUUUUUUUUUUUUUUUUUUUUUUUUUUU!!!!!!!!!!!!!!!!!!!!!!!!!!!!!!!!!!!!!!!!!!!!!!!!!!!!!!!!!!!!!!!!!!!!!!!!!!!!!!!!!!!!!!!!!!!!!!!!!!!!!!!!!!!!!!!!!!!!!!!!!!!!!!!!!!!!!!!!!!!!!!!!!!!!!!!!!!!!!!!!!!!!!!!!!!!!!!!!!!!!!!!!!!!!!!!!!!!!!!!!!!!!!!!!!!!!!!!!!!!!!!!!!!!!!!!!"
— Major Nixel
Another Nixel
Information
Season
1
Episode Number
9
Production Code
 ?
Original Airdate
 ?
Characters
Major Nixel
Nixels
Episode Guide
Previous
{{{previous}}}
Next
{{{next}}}

Another Nixel is the ninth episode in season one of Mixels.
Plot
Major Nixel sends Nixels to take cubits from the Mixels, but each attempt is disastrous.
Trivia
The title card for the episode is a grey version of the logo, with the "M" replaced with an "N".
This is the first episode where none of the individual Mixels are seen.

This is also the first episode in which Mixels aren't seen mixing.

The place where the Nixels come from, and who is leading them, is revealed.
Memorable Quotes
Gallery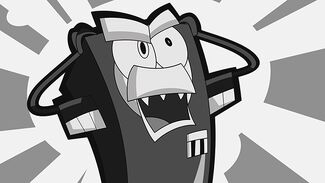 The image gallery for Another Nixel may be viewed here.