This article is under construction




This page or section is currently under maintenance or construction. Feel free to help in any way you can to improve it.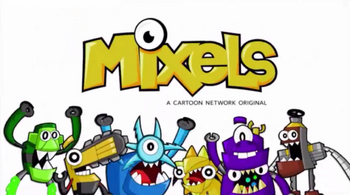 A group of Mixels set out on a quest for the mythical Mixamajig, not knowing that it is part of King Nixel's evil plot.
Episode
Act I
Scolding of Major Nixel
Meet the Frosticon Cousins
Finding the Chosen One
A Sign
Mondo Mixes
Act II
Just a Pitstop
To Lixer Land
The Long Lost Mixamajig
King Nixel vs. the Ultra-Miximum Max
The Weldos and Mixopolis
Videos
Promotions
Clips
Bumpers
Other
To return to "A Quest for the Lost Mixamajig" and read the full episode summary, click here.
Community content is available under
CC-BY-SA
unless otherwise noted.