"Oh, schnixel!" is a term used by Flain. It was heard in the episodes Nixels and Mixel Moon Madness.
Context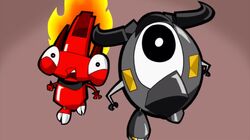 When a Nixel steals the Cubit from Seismo, just after he pulls it out so he and Flain can Mix, the Nixels begin to attack, prompting Flain to say the quote. (Nixels)
It is later said again in Mixel Moon Madness by Flamzer and Rokit.
Trivia
The word "schnixel" may be a curse in the Mixel language. Alternatively, it might just be a euphemism for cursing used by Mixels.

However, the Japanese translation of the phrase is "Mikuso" (pronouced "mix-kuso"), a combination of "mixel" and "kuso", a Japanese catch-all curse word.

The only other time this line has been said was at the end of the video "Mix to the Max", in which it can be heard at the end when "LEGO.COM/MIXELS" is written across the screen.
It can be considered Flain's catchphrase.
In the UK dub of Mixels, this line is replaced with Flain screaming. 
Community content is available under
CC-BY-SA
unless otherwise noted.