It's a lovey day in Mixopolis and all the Mixels are going on a walk. Suddenly there was a loud bang!
Oh no! The Nixels are on to it again! It seems like king Nixel has stolen Krog's cookbook and trapped Wizwuz and mesmo in the nixels castle! We got to get Krog's cookbook back! 
Rules:
● Only I can be Firo,Boogly,king Nixel,major Nixel,wizwuz,chilbo,Footi,Krog,Niksput,Mesmo,slumbo,Dribbal,Berp,Flain,Tungster,Jawg,tapsy,screeno,forx,camsta,Magnifo,Glomp,gobbol,gooser,dracwing,Slusho,lewt,Gurggle,Aquad,sharx,Glurt,Torts,lunk,chommy,radic,blubbel and my other fan Infernites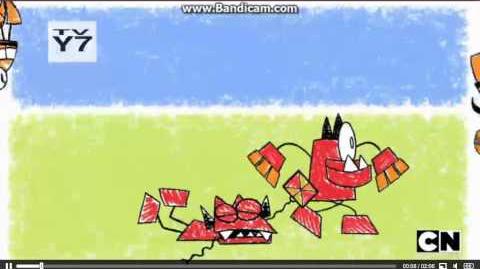 ● No bad words
● We have cubits in the inventory so don't forget to use them in case you find yourself in trouble 
●You have 5 lives if all your lifes are gone then it's game over
Worlds:
World 1: Mix Street boss: muscle nix
World 2: camillot's castle boss: dragon Nixel
World 3: Musicland boss: pipe organ creature
World 4: Orbitopia boss: Nixel castle prince (rescue Wizwuz and mesmo)
World 5: Glowkie cave boss: camoflouge nix
World 6: Mixopolis zoo boss: mega mixeloptor mix
World 7: lava lounge boss: lava monster 
World 8: lixer lopes boss: the lick-a-saur
World 9: Trashoz dump boss: nixed and wasted Trash pile
World 10: Nindjas hide out boss: ninja nix
World 11: tuxedo club boss: snowman nix
World 12: Mixopolis wharf boss: tentacle Nixel
World 13: Weldo factory boss: Robo nix
World 14: Glorp Corp slime land boss: sewer slime monster
World 15: Mix TV studios boss: TV creature 
World 16: the food factory boss: Mixel murping blender 
World 17:Mixopolis general hospital boss: cavity nix
World 18: Mixopolis stadium boss: Dark Nixie
World 19: MCPD station boss: jail cell Nixel
World 20: MCFD station boss: fire ball nixel
World 21: Nixels land final boss: King Nixel true final boss: Stronger king Nixel and major Nixel 
Ending: Krog is happy that his cookbook is back (closing time for the rp)
And remember ZootyCutie you cannot close my server when it gets old I'm watching you ZootyCutie it's a rp with levels and do not close it until the ending 
The quest begins here!